CyberFest4: Christmas Party!
CALLING all beer fans, if you thought you had missed out on your local beer festival this year then guess again. Beer52 is launching the world's 4th online beer festival, and luckily for hop enthusiasts taking part is easy.
The 4th online beer festival of its kind, it's been designed to be enjoyed from the comfort of your own home. It'll take place on December 11th & 12th , and all you have to do to take part is buy some beers and tune into the live stream from 6 – 10pm.
Take part in Beer52's Cyber Fest – buy here
Ticket holders need to buy expertly picked case of twelve delicious beers in advance, which they can do here, before the 27th Nov. Beer52 also have a £30 discount for early bird purchase which is automatically applied at checkout.
These beers will then be sampled alongside the live-streamed beer festival on 11th & 12th Dec, hosted by editor of Beer52's in-house magazine Ferment, Richard Croasdale.
Festival-goers can expect virtual, back-to-back tastings and Q&A sessions with the brewers behind each beer in the box.
Big breweries will be taking part including world famous Mikkeller, alongside Northern Monk, Boundary, Salt, Gipsy Hill, Tiny Rebel, Buxton x Verdant, Dark Revolution and Wild Beer Co.
---
Join Beer52 for the ultimate Christmas Party at home
More than 75,000 people tuned into previous Cyber Fests, we've enjoyed some incredible beers, trended on Twitter, and had a tonne of fun along the way. They're offering you the chance to celebrate great beer with us for the festive season. Help them support more of our favourite breweries and share this awesome experience with our community.
Featuring 12 new beers each night
FRIDAY 11TH DEC
Brew By Numbers, Citra Amarillo IPA, 6% *440ml can*
Pomona Island, Factotum Pale Ale, 4% *440ml can*
Hammerton, Crunch Peanut Butter Milk Stout, 5.4%
Turning Point, Perpetual Dawn, 4.5% *440ml can*
Overtone, Weapons of Mass Consumption, 5% *440ml can*
more announced soon!
SATURDAY 29TH AUG
Full Circle, What's in the Bag DDH Pale Ale, 5.2% *440ml can*
Brew York, Fairytale of Brew York Pecan and Maple Stout, 4.9%
Siren, Do Repat Yourself Brut Pale Ale, 4.5% *440ml can*
71, Sat by The Ocean NEIPA, 6% *440ml can*
White Hag, Eggnog APA, 6%
more announced soon!
---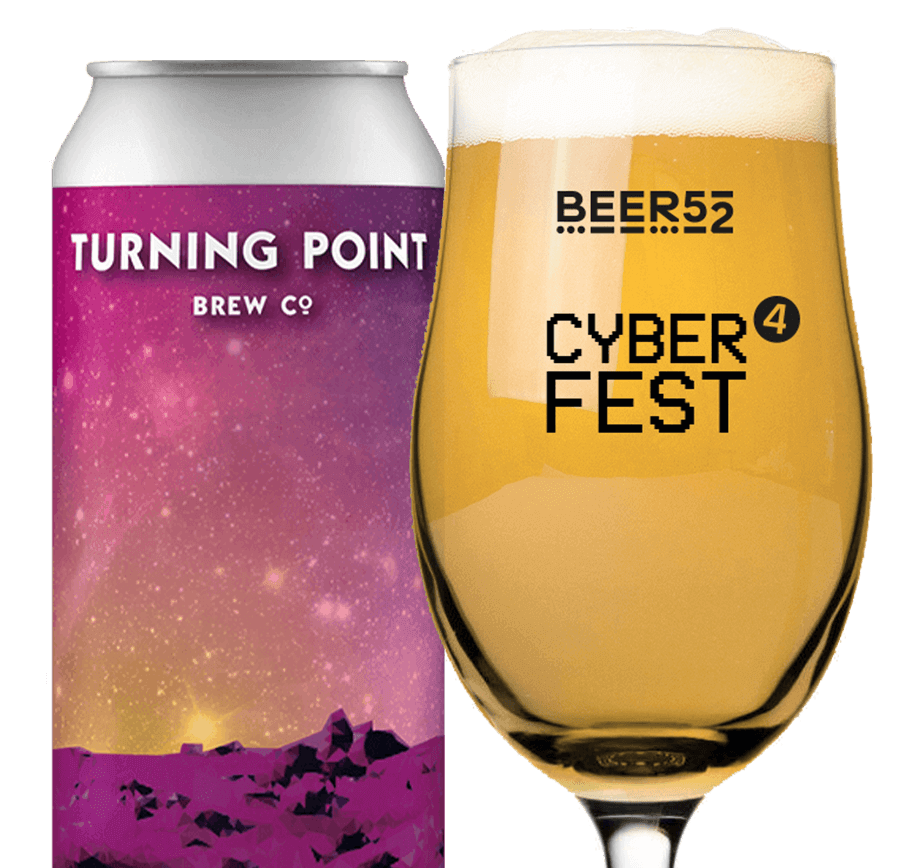 Limited edition festival glass included in every box
Each festival box contains a special limited edition Cyber Fest glass. What better way to enjoy your awesome beers while you watch our online beer festival each night.
Order Here
---
Beer festival FAQs
Why did you make an online beer festival?
Beer52 invented this concept as an antidote to the lockdown. Their brewery friends have no beer festivals to go to and a lot of beer they need to sell and are facing a hard time thanks to Covid closing all the pubs.
What is an online beer festival?
We'll be livestreaming 4 hours of tastings, brewery tours, comedy and other fun content each session. You can drink along at home to tastings of each beer and take part in our quiz and other competitions.
Will the beers be different each night?
Yes! Each night will be 12 different beers from 12 different breweries. A few breweries may be featured on both nights, but with different beers.
When will you send the beer out?
All orders will be shipped during w/c 30th Nov so that they arrive in plenty of time for the events on 11/12th Dec.
Should I drink all 12 beers on the night?
Definitely not! There are some very high ABV beers in the box and we recommend coming back to the video as many times as you like in the weeks after the live show to try the beers you don't get round to drinking on the night.
Can I watch the livestream after the event date?
Yes! The show will be available on our YouTube for several weeks after the show has ended.
What breweries and beers are in the box?
The beers and breweries are listed above and we're working on confirming the rest of the lineup. They will all be top end beers from some of the most highly rated breweries in the world.
Can I participate in Cyber Fest?
Beer52 will be sending out an email to all participants ahead of the show with details on how you can take part. They are looking for volunteers to Skype video call during the night as well as to take part in games and challenges. If you're up for it or have some ideas of your own, email [email protected]
If you want to take part in the 4th online beer festival then just hit up the button below.
Order Here