Last year, Samsung introduced us to the Galaxy Note10 – a 5G Ready phone with enviable features including their fastest processor and most powerful battery ever. With such an impressive predecessor, we were curious to see what Samsung had planned for the Note series this year.
At their Unpacked event on 5 August, Samsung unveiled the new Gaaxy Note20 and Galaxy Note20 Ultra 5G. And with new colours, they caught our attention immediately. But it was the specs we really wanted to see, and we weren't disappointed.
These phones are designed to put productivity and play in the palm of your hands.  Work, entertainment, and creativity – they've got it covered.
Which one are you going to pick?
Here are some of the key features of the Galaxy Note20 and Galaxy Note20 Ultra 5G to help you decide.
Screen size and design
Let's kick off with one of the most obvious differences – screen size.
The Note20's the smaller of the 2 with its 6.7inch Super AMOLED+ Infinity-O display. And if you prefer a larger phone, the Note20 Ultra 5G's Dynamic-AMOLED+ Infinity-O display comes in at 6.9 inches – Samsung's largest Note display yet.
Embrace your creative side
The Note20 improves on the Note10's double camera with 3 – yes 3 – lenses.
With the Note20, you get a 64MP wide camera, 12MP Ultra-Wide camera and 12MP Telephoto camera. You also get 3x Hybrid Optical Zoom and 30x Space Zoom on the Telephoto lens.
The Note20 Ultra supersizes those specs with a 108MP Wide camera, 12MP Ultra-Wide camera, and a 12MP Telephoto camera. And with 5x Optical Zoom and 50x Space Zoom on the Telephoto lens you get closer to your subject than ever before.
And it's not just photography we're swooning over. Both phones record video in 8K giving you exceptional video quality from the first frame. Pro Video mode lets you play with stuff like zoom speed, slowing everything down for dramatic effect. Really want to flex your creative muscles? With advanced editing software, you can finely tune your video, frame by frame.
Ultimate productivity tool
The Note series wouldn't be complete without the S-Pen. And it's more responsive than ever – like putting pen to paper, only better.
There's full Microsoft Office integration on both the Note20 and Note20 Ultra 5G. So, converting your scrawled, hand-written notes to a Word document is a snap.
And with the S-Pen, flick through presentation slides, switch between cameras, and adjust the volume with just simple hand gestures.
Gaming – grab a power up
These phones have been made with gamers in mind. With a Dynamic 60Hz display and 120Hz display on the Note20 and Note20 Ultra 5G respectively, graphics are super smooth.
Both phones are designed to work with Xbox Game Pass with minimal latency and have controller compatibility, too. And with an upgraded cooling system, intelligent processor, and long-lasting battery, you get hours of gameplay.
Battery
How does the battery look on the Galaxy Note20 and Note20 Ultra 5G?
Well, they're hard to beat. You get fast-charging, intelligent 4300mAh and 4500mAh batteries on the Galaxy Note20 and Note20 Ultra 5G. These phones are built to last a full day on just one charge.
Your next big idea. Powered by 5G.
If a 5G Ready phone is at the top of your list, look no further than the Galaxy Note20 Ultra 5G. Ultra-fast data speeds and performance to match, you've got everything you need to get ahead of the game.
How much does the new Note20 and Note20 Ultra 5G cost?
Now for the most important part – the price. How much do the new Galaxy Note series devices cost?
The Galaxy Note20 starts at £51 a month with an upfront cost of £79 and the Galaxy Note20 Ultra 5G starts at £64 a month with an upfront cost of £99.
Pre-order your Galaxy Note20 or Galaxy Note20 Ultra 5G between 5 August 2020 and 20 August 2020, and get one of these free gifts from Samsung: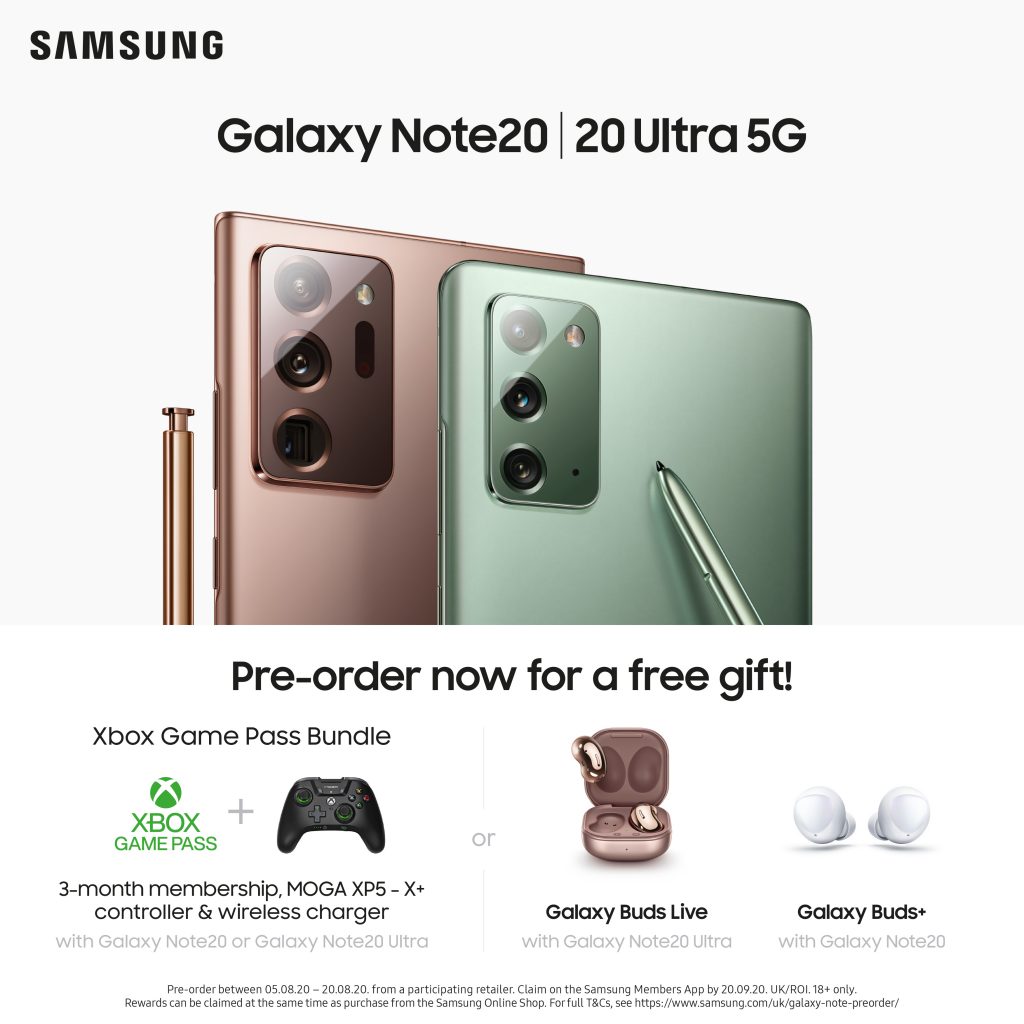 What else did we see at Samsung Unpacked?
It wasn't just about the phones this year. Samsung introduced us to the powerful new Galaxy range and unveiled the Galaxy Tab S7, Galaxy Watch3, and Galaxy Buds Live. Here's everything you need to know about these new devices.
Galaxy Tab S7
If you want a tablet that seamlessly shifts between work and play, look no further than the Galaxy Tab S7.
With an 11inch display and ultra-fast 120Hz refresh rate, you get a super-smooth viewing experience. Add Dolby Atmos sound and quad speakers tuned by AKG into the mix and you get an amazing viewing experience.
From scribbling down notes during conference calls, to sketching a still life, the S Pen takes you effortlessly from work to play.
And it's not just the fun stuff the Galaxy Tab S7's good at. It delivers when it comes to getting work done, too. Pair the Samsung DeX mode with the Book Cover keyboard and you're ready to work, wherever you are.
You've got PC-power with the Galaxy Tab S7, updating PDFs with extended document editing's easy. And with Split View, multitasking's super simple. You can work on a document on one side and have your research notes open on the other. Or you could use it to stream videos and check social media, of course. The choice is yours.
How much does the Galaxy Tab S7 cost?
The Galaxy Tab S7 starts at £41 a month with an upfront cost of £49. It's available for pre-order from 5 August and will launch on 21 August.
And if you pre-order yours between 5 August and 20 August 2020, you can bag one of these free gifts from Samsung: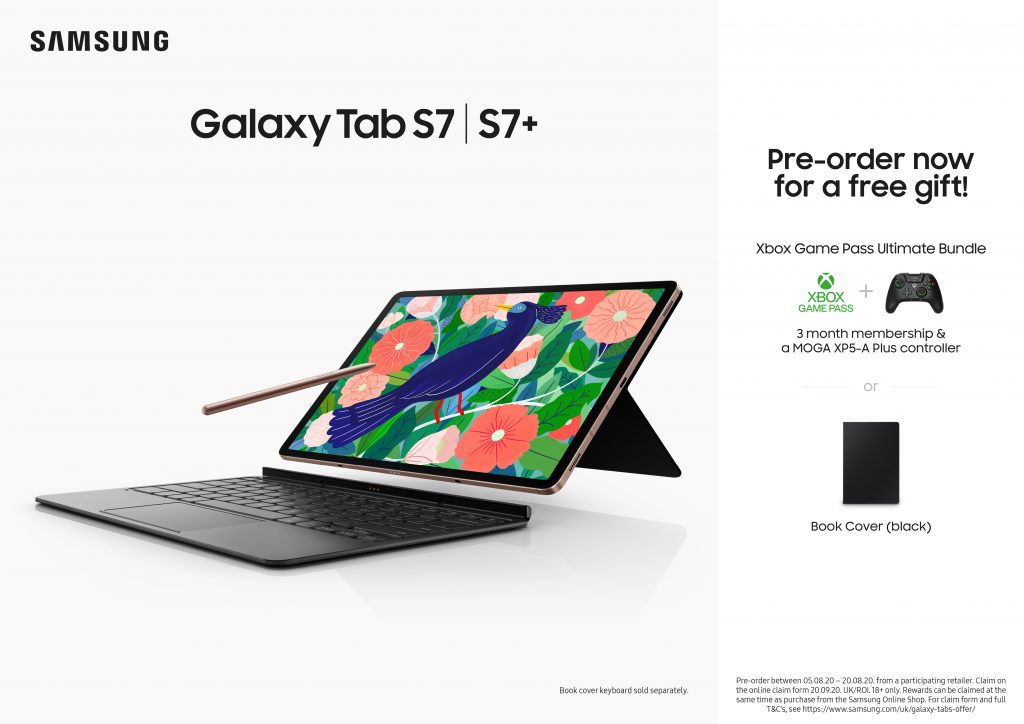 Samsung Galaxy Watch3
With a stainless steel and leather design, the Galaxy Watch3 combines timeless style with brilliant tech.
With 4G connectivity, you can stay connected no matter where you are, even without your phone. In fact, with Samsung Pay, you don't even need your wallet. There's Samsung Pay Card now too. Use it to grab your daily coffee with a tap and get those all-important loyalty points at the same time.
It syncs perfectly with your Galaxy Buds Live too, so you can listen to your favourite music on the go.
The Galaxy Watch3 is the perfect partner when it comes to wellbeing. You can keep track of your steps and check your heart rate, all at a glance. And with sleep tracking, Galaxy Watch3 analyses the data and uses it to offer tips on how to get the best sleep possible.
Samsung Galaxy Buds Live
Next up, we've got the Galaxy Buds Live.
With a reflective metallic finish, they look great and stand out against some of the other wireless earbuds out there. They've been ergonomically designed too, making them comfortable enough to wear all day.
And being comfortable enough to wear all day is great, until the battery dies. Luckily, that's not a problem for the Galaxy Buds Live. You get a huge 21 hours of play time. And if they dip below 30% power, Fast Wireless Charging gives you up to an hour of power in just 5 minutes.
Let's talk about the sound – a pretty important factor. With Grammy Award-winning AKG tech and Active Noise Cancellation, you can zone out and completely immerse yourself in your favourite tracks. If you do need to tune into what's going on around you, you can control the level of background noise.
And they're easy to use – just tap to skip, play and pause. You can even pair them to your Galaxy Watch3 and control your playlists there. Out for a run or working out in your new gym, it's just you and your music. Sounds perfect to us.