Hipsters Deconstruct Coffee, a harbinger of humanity's last days?
Imagine the scene, you rock in to your local Hipster coffee shop, Fixie bikes parked outside and the distinctive skinny jeans and beards or crazy moustaches adorning the clientele. You order your favourite coffee sink in to a chesterfield, Hipster International oozing from the speakers and what happens next just blows you mind. The waitress delivers your coffee Deconstructed! Served in three separate glass beakers!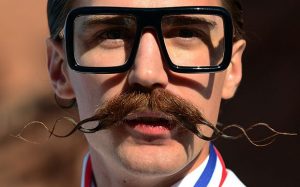 One beaker contains espresso, the second water and the third warm milk. Next to the Breaking Bad setup she places a large desert spoon. You patiently wait for a cup to arrive but one is not forthcoming. Only looking around the premises do you notice that you are to reconstruct the coffee yourself in the provide beakers!
Now I am not sure if I go for this whole cocktail bar approach to coffee but there is something pretty cool with the presentation of the coffee and is a bit like a cocktail master class as you try to out do you mates when combining your component parts to make the coffee.
Hipster International on Spotify
London's Best Coffee Shops
Fancy checking out some of the hipster coffee shops in London GQ combed the capital to find the finest cups of Joe out there, whether you're an espresso, latte or even double-shot-macchiato man. It's time for a caffeine upgrade.
Hipster Coffee