This Christmas we wanted to highlight some charities and organisations that are doing amazing things. So on to our 1st spotlight Social Bite
You may have heard of Social Bite and their mighty mission to end homelessness. They even won a Special Recognition award at the 2019 Pride of Britain Awards. From opening their first sandwich shop in Edinburgh 6 years ago, their success has skyrocketed. And they've had support from Prince Harry, Meghan Markle, George Clooney and a host of other celebs.
They tackle the problem of homelessness in many ways, but here are just a few of them.
Social Bite Sandwich shops and Vesta Restaurant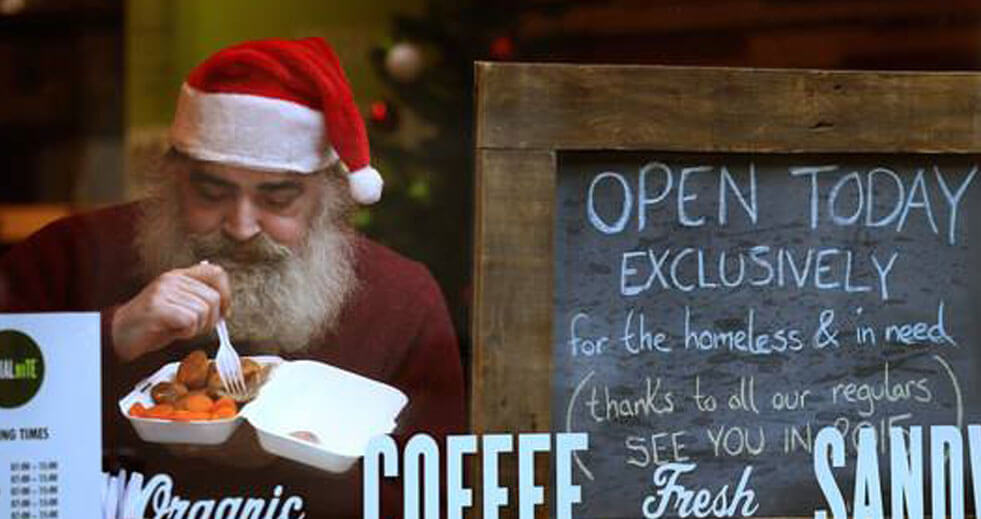 They have 5 sandwich shops in Glasgow, Edinburgh and Aberdeen. Homeless people can enjoy some warm food and drinks throughout the day, or at a social supper in the evenings. Vesta Restaurant and Bar in Edinburgh is also open everyday, but exclusively for homeless people to pop in on a Monday afternoon. And there are training opportunities for vulnerable people to learn new skills.
The social enterprises provide employment for 70 people, with 1 in 3 staff members understanding what it's like to be homeless. They hand out over 140,000 hot drinks and meals to those who have no home to go to. At Christmas they also help spread the cheer with a Christmas meal, presents, warmth and company.
Social Bite Village  
Working in Partnership with social charity Cyrenians, the Social Bite Village launched in May 2018. Its aim is to give 20 homeless people a safe and supportive environment to help them get back on their feet again. The residents become part of a community and can get involved in activities like yoga, mountain biking or cooking classes. They can build their knowledge and confidence with work and voluntary placements. The support continues after they leave, with a circle of partner organisations, as they move into permanent accommodation and adjust to their new life.
The World's Big Sleepout

In 2016, they hosted the first 'CEO Sleepout' with 350 people sleeping outside for one night to raise awareness and vital funding. The number increased to 8,000 at 'Sleep in the park' in 2017 and 10,000 in 2018. This year they're taking it global with sleepout events planned all over the world – in places like Chicago, New Delhi, Brisbane and Amsterdam. Closer to home there are events in London, Edinburgh, Manchester, Brighton, Dublin and Belfast. Under 18s can get involved in their own events with the Wee Sleepout.
Previous events have raised an incredible £7.65M, catapulting the issue into the forefront of media and Scottish politics. Since then, 160 new jobs have been created and over 800 houses have been made available for homeless people.
How you can help
Register at the World's Big Sleepout or sponsor those who are taking part.
Buy your lunch or snacks at a Social Bite sandwich shop or organise a delivery for your next event. You can also donate money towards an extra coffee so a homeless person can enjoy it when they're next in.
Buy a Christmas dinner for a homeless person by adding  an extra £1 to your bill. Look out for the cafes and restaurants taking part in the #payitforward campaign.
Become a fundraising partner and help with fundraising events or volunteer work.
If you've got a meeting or business event, their fresh, local produce can be delivered directly to your office or party. Just check out their food delivery service.
Check out the Social Bite website for more details on their projects or simply donate whatever you can afford.
Do you know of any local organisations doing amazing work. If so then let us know in the comments or drop us a line here.