Stuck for a gift idea? Send potatoes
So we came across these guys not so long ago and we thought we had to share. Stuck for gift ideas why not send a text a potato to a friend or loved one in the post. That's right we did say potato, yes you can send a potato with a custom message.
How Text a Potato Works
Text-A-Potato will anonymously post a real, yes real, potato to anyone. They will hand write your personalised message on a large potato, wrap it up in and post it to the requested address.
If a potato alone isn't enough, they also have many other gifts! Including annoying cards, mysterious cricket sounds, always win scratch cards & underpants with your face on them.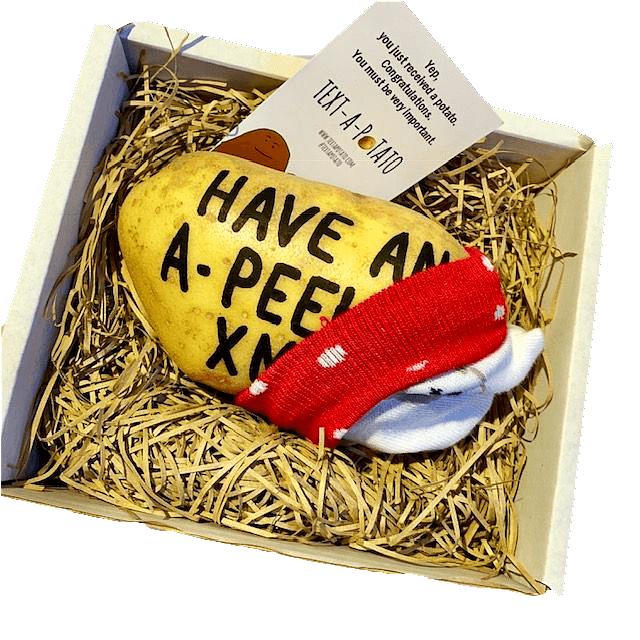 The Text a Potato Xmas Bonanza
What really grabbed our attention is this epic Christmas bonanza gift set they are currently doing.
This bonanza package includes:
A  potato with a personalised message inscribed
A festive potato sack to keep your spud warm and presentable
An exploding butterfly
A pair of festive Christmas socks
An endless singing Christmas card (featuring an extra annoying tune that can't be turned off for hours and hours)
Gift packaging included
We quite like the fact you can send this in ACTIVE OR SAFE MODE. This means the butterfly wont explode out of the box and the card will not go off until you pull the activation string. Personally we think we will be sending in ACTIVE for max impact.
We have some other great gift ideas on the site such as the Down Under Box for those Aussie expats. Let us know what you think and if you will be sending someone a a spud for Christmas.
Find out More