The hipster coffee revolution Pact Coffee is leading

Do you know your Latte from your Café Cubano or your Flat white from your espresso? Well Pact Coffee certainly do with their deliver to your door  250g bags of coffee, ground to suit whatever brewing kit you have at home. Or, if you prefer to grind them yourself, choose to have them delivered wholebean.
The hipster coffee revolution
Now I must confess I adopted the Starbucksification of coffee making it part of my routine. Whether a Starbucks Costa or another high street bran. I was happy to subscribe to the big corporate world of caffeine addiction. However all that changed when I started to see some of the office coffee snobs wandering around with these weird devices perched on mugs filtering what looked like freshly ground coffee. After some investigating I was informed of this amazing company called Pact. These guys grind the coffee to you needs and deliver it to you and at around 6 quid a bag it's a dam site cheaper than Starbucks or Costa or your office based variant.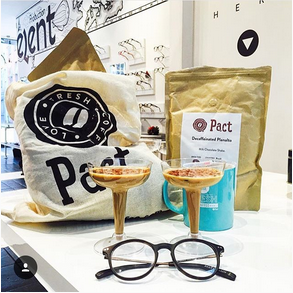 So I used my colleagues referral code and got a sweet discount of my first order. You can even choose how you want the coffee ground to suit your brew method. As this is for work I chose the drip method but AreoPress seems to be equally as popular with the coffee snobs in the office. A few days later an email pinged in from the post room I eagerly ran down and picked up my fresh new coffee. Hit up my drip and tasted my first cup of Hipster coffee. No more paying big money in Costa or sipping on Grumpy Mule from the canteen.
Try Pact